Happy Small Business Week friends!
In celebration of this joyous occasion, I'll be featuring a few aspects of Fin and Feather Art as well as showing off a few shops that I absolutely adore. The maker community is huge and growing fast, and an incredibly inspirational place to be <3 <3
For today – the first day of Small Business Week, I wanted to give you guys a peek into the things that my studio wouldn't run without. Well, it probably would still run, but not as smoothly.
…Or  be as nice-smelling.
So here a few things that I really appreciate having in my work space. What about you? What inspires you on your desk?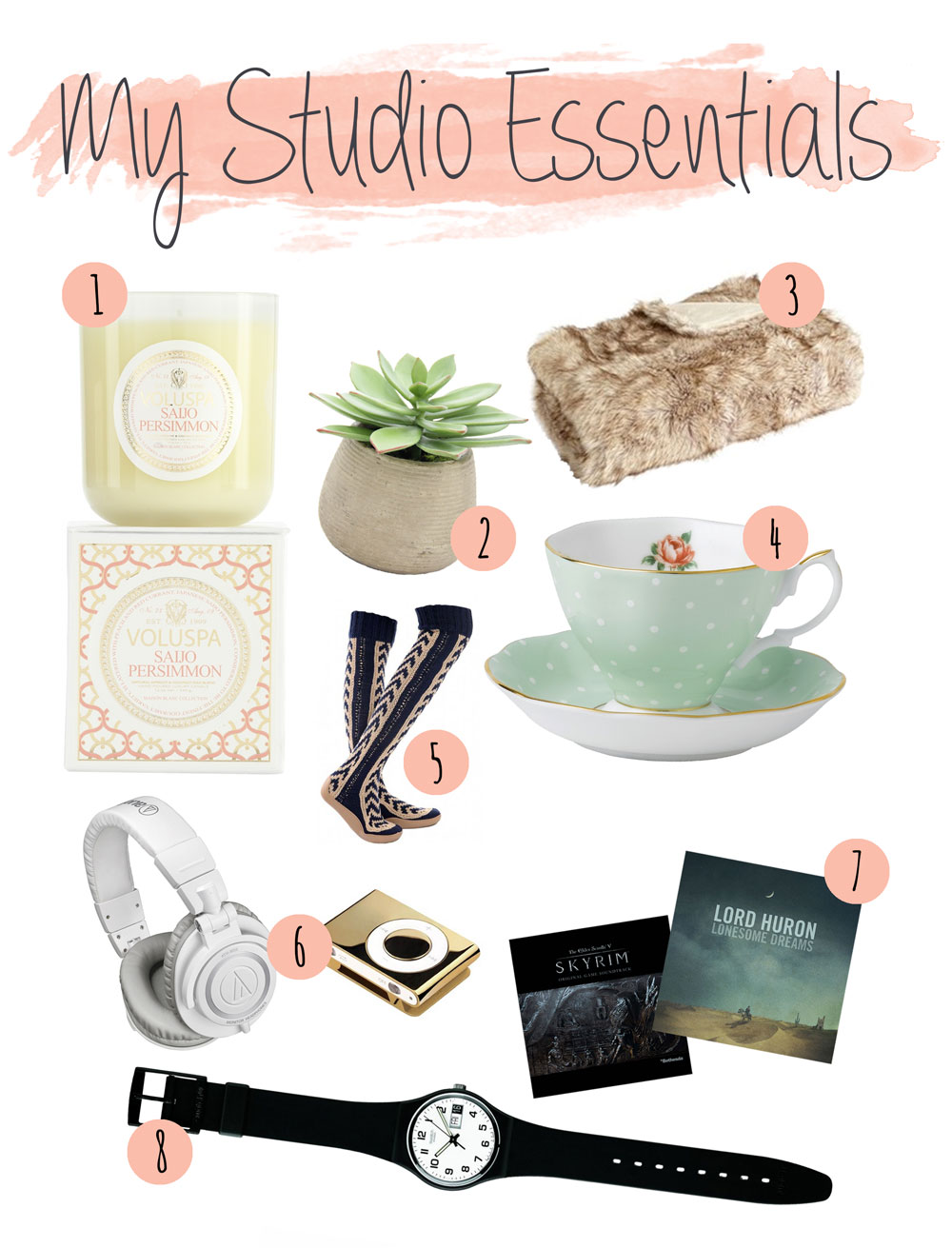 1: Voluspa Saijo Persimmon Candle. I first stumbled upon this scent after arriving home from a 2 month adventure in Europe. I was full of inspiration, full of ideas and hungry to make some serious work. Now, every time I light this candle (or subsequent candles — I've gone through many.) I am reminded of that feeling and try to channel it into my current projects.
2: Succulents. As many as I can physically keep alive.
3: Faux fur lap blanket. Sometimes I get cold, even in Miami. Wrapping myself up in a FAUX fur blanket while working (not with paint though, too messy) makes me feel warm and medieval-ly.
4: TEA (and/or coffee). For reasons.
5: My ancient Muk-Luks. Seriously, I've had them for near 10 years. Nothing keeps my toes warmer.
6: Headphones/Ipod
7: (See 6). My current playlist on repeat; The Skyrim Soundtrack (45 mins of atmospheric sounds? YES PLEASE.) and both Lord Huron albums. Pure poetry.
8: My black swatch watch. I regularly work into the wee hours of the morning and if I'm not hovering by my computer I tend to lose track of time crazy fast. I try not to have my phone out when I'm painting either, I like to commit to distraction-free-paint sessions as often as I can. Rather frequently I'll realize I worked straight through dinner, or it's 2 hours before sunrise — so wearing a watch has helped be a subtle reminder to eat, and you know, actually sleep.
Tomorrow I'll be back with some info on some of my favorite small shops (both local and international), so feel free to drop any suggestions below!