1.) Chilly Mornings
So, I only *really* get to enjoy these when I visit more northernly locations, which I try to do each year. As winter draws near, every once and awhile I'll need a scarf on my porch in the wee hours of the morning in Miami, and I LOVE it. Seriously, I have an alert on my phone for the moment the temperature drops below 68. These brisk-"er" mornings are like an expresso shot for my soul, when my best sketches and plans are usually laid out.
2.) COLORS
For a brief time, our little northern hemisphere is alive with fire. Shocks of yellow, slashes of blood red and sunburst orange dot our landscape, transforming it as it begins it's process of renewal. These colors invariably seep into my work, infusing my summer yellows and navys with a spark of fire.
3.) Newness
As the natural world begins it's process of renewal, so do I. Perhaps its conditioning from 17 years of education, greeting the fall with new pencils and books — but once the temperature begins to drop, I jump into "new year" mode and am a planning machine. Forget January 1st, this is my time for resolutions.
4.) Pre-holiday Inventory
As weird as it sounds, I really really enjoy prepping my shops for the incoming holiday rush. I take inventory, start to brainstorm my Thanksgiving – Christmas packaging and wrapping services, and plan my marketing campaigns. Usually these tasks are a bit dull for me, but the festive spirit tends to quickly outshadow the drudgery and before long, I'm humming JingleBells and picking out holiday stickers for orders. It's a sickness. I know.
5.) Pumpkin Spice….anything.
I know, I know… basic. Whatever. As someone who lives rather far from family, the scents and tastes of pumpkin and it's accompanying spices (wooo nutmeg!) recall thoughts of my Michigan home. Which is why I'm including this little printable below; pumpkin spice to me  is all about warmth, love and family and friends — why wouldn't I want to share that? Simply click on the image to download an 8.5 x 11 pdf file of my original illustration "pumpkin spice". Save to your computer and print it out at your leisure = WHAMBAM AUTUMN ART! Give it as a gift, hang it in your office, throw it on the fridge, display it anywhere for a dose of spicy autumn goodness.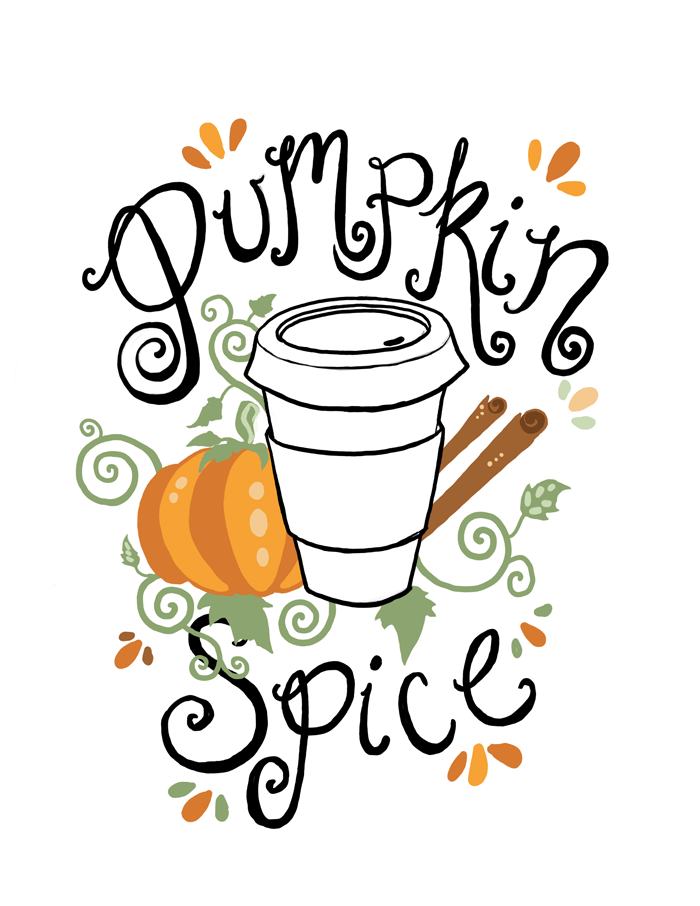 AND, if you snap a photo of the print and upload it to instagram, tag it with #finandfeatherfall for a chance to win a little fall-inspired bundle of goodies.
Hope everyone is having a wonderful start to autumn!! I'll be back with more news on some exciting new work (just in time for the holidays!) shortly.
Much Love!