Happy Monday folks! Hope you all had excellent weekends!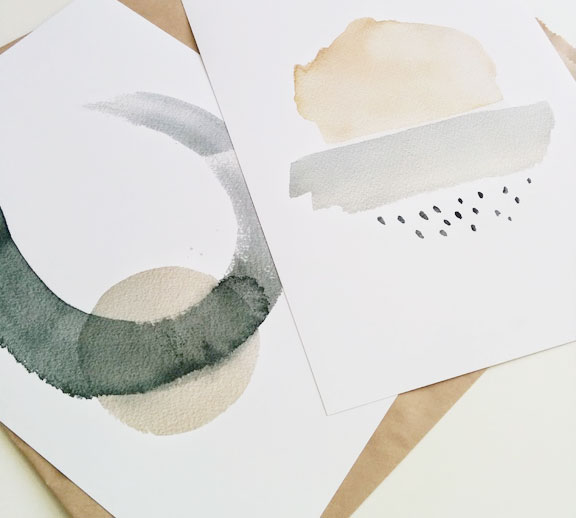 My weekend seemed to be devoted to the more adult side of life — revolving around taxes, laundry and picking out new floor tiles. No complaints here though, it was all necessary and some of it a good bit of fun. We're still dealing with some flood damage from back in November, so I am all about with getting the discolored carpet ripped up and replaced with shiny new (flood resistant) tile.
In addition to these pursuits, I was also able to finally color check a run of brand new prints made from my recent abstract watercolors. They passed with flying colors (pun completely intended) so I am super happy to announce that I will be taking preorders for the first 20 prints of each painting! Each work measures 8.5 x 11 inches and is printed on gorgeous, heavy weight fine art paper using archival quality ink.
For all pre-orders I'll also be reducing the cost from $25.00 per print, to $20 until the first run sells out.
Simply click here to send me an email. 
Make sure to note the following;
1.) The letter corresponding to print (see below) that you would like to order.
2.) The quantity of each print you would like to order.
3.) The address of where the print should be sent to.
I will confirm availability and will send a paypal invoice back to the email. Payment must be made within 24 hours of the invoice being sent. Once I've received payment, the print will ship within the next 2 business days.
Feel free to contact me with any questions on the offer, or for any additional images of the prints